Here is a detailed guide to hiring remote developers and programmers for your software and mobile app development project in 2023.
"It is about workplace flexibility. It's about giving our associates the opportunity to be who they are as an individual, whether that is a community member, a spouse or parent, or anything in between."– Amy Freshman
Pandemics changed our lives and working lifestyles. It completely shifts our dependency on everything and to explore the world deeply. With the advent of digitization, people are more interested in consuming their lives wholly rather than working as a taboo.
Remote people comprehend working under sync of lifestyles, giving much more access to broader skills, expertise, and knowledge, and imbibe their product quality. It raises the healthy growth in the number of remote working styles.
Today, in this guide, we explore why you should hire remote developers for the organization. It is time to answer some of the brain tide questions. Let's look at some of them. 
Why do we need remote software developers for business projects?

What common myths existed and stopped us from hiring a software developer?

What are the goals before hiring a remote programmer?

Steps to

hire dedicated developers

who can work remotely.

How do we discriminate whether the candidate is acceptable in the organization or not?

What are the resources to find a suitable candidate?
Here in this guide, we are interested in answering these questions in detail. 2023 and the coming time is the best phase for developers and professionals to be a part of remote work.
Remote Industry Market Stats 2023
Recently, we have seen so much buzz in the market for working remotely. Especially after crossing the pandemic bar, tremendous growth is suspected by the global market. Looking at the numbers, the current market stats for remote working programmers have seen a decent 18% growth, which is a significant mark to touch. The market stats hike with the price of $2.27B in 2023. That is why top key players worldwide are interested in deep diving into the remote segment as an opportunity. Big giants like FAANG (Meta (Facebook), Apple, Amazon, Netflix, Google), LinkedIn, and Microsoft are all hired candidates for remote work after the pandemic.
The global market size of information technology outsourced services was valued at USD 526. 6 billion in 2021 and is expected to reach USD 682.3 billion by 2027.
Top places inherit this culture and appreciate their employees to enhance their productivity.
India is at the top of the list with its different working lifestyles and nature of working remotely. It has become the best choice for companies across the globe. Indian remote workers are best on budget and hard working.

Brazil and the UK are the other countries that offer the best opportunity and working environments for remote workers.
Remote developers and software programmers are easily accessible to small enterprises as well. Large organizations embrace their culture with hybrid work models in tune with remote working styles. Soon, in this industry, we will see many more changes and figures. So never the late… let's dive in. 
Today, we have prepared a self-driven guide to thoroughly brief the crucial questions at the beginning and on how to hire remote programmers for the organization. 
Why Hire Remote Developers? How does she/he benefit the company? 
After the pandemic, we have gradually impacted online and virtual work cultures. Every business is trying to hire skilled professionals for their portfolios to avoid market failure. It becomes necessary to trust the people hidden from sight but could make a friendly culture of remote working.
Experts see the remote work environment as the need of the hour, especially for industries with clients in distant places. 'Work without any halt' or 24*7.
So it is the right time to prepare a company that can work both functionally and remotely.
Budget-friendly to the company: Remote engineers or developers are budget-friendly for the company and can easily mingle with their budget.
Can Access a global talent pool: Hiring developers from a global pool of talented candidates is a great advantage. You have the chance to explore new individuals who have different kinds of skills but can't find the right place to use them. Allow young and self-driven candidates to fit in your organization.
Can work out in flexible hours in case of emergencies: The remote software engineer can work in flexible hours, so no worries about depending on less experienced people in your team.
Creates credibility and trust: Remote professionals can work irrespective of different time zones and are specialists in significant aspects. That impacts their trust and credibility. They can mold their work under any distractions or unfavorable conditions. This habit in the transition of working would be a bonus for the organization.
Optimist and good communication skills: Hiring remote engineers sounds favorable to the company's workflow. Their positive outlook works excellently for the company's overall impact.
More productive: For small and medium enterprises, which have less space,

can save high prices on infrastructure.
In addition, the company has multiple gains in hiring remote software engineers. One should keep in mind every aspect before hiring.
Now let's move on to a brief about some common myths regarding the remote programmer.
Common Myths about Hiring the Remote Software Developers
Remote working seems daunting initially, but trust me, it is not. Sometimes, some assumptions occur when you hire remote developers, which seem like roadblocks. Let's start with some of them:
The remote working style creates a communication gap: Some obstructions in the middle of communication can arise and quickly be sorted. This myth vanished using communication tools.
Remote developers are less productive: Distances create disruption, it is true. But wait a minute, that doesn't mean we deny the opportunities it could offer. Both full-time resources and remote workers are suitable for the business; you must know the importance of both and choose any resources irrespective of their place.
Remote working becomes less productive only when there is a less focused action plan.
Can't trust remote software developers: Companies fail to trust a person if he is not available in front. Big organizations like Apple, Google, and Amazon welcome fresh minds and give them opportunities to explore new horizons in their respective fields. You can always choose a remote engineer without hesitation if your organization is not significant.
Remote programmers break security breaches: One popular misconception is that remote workers invade security breaches. To secure your authority with such loopholes, you can adhere to some policies inside the organization.
Sign the nondisclosure agreement, add two-step authentication, strong passwords, encryption models, and a virtual private network; reap your organization from any failure.
So don't blunder what are unreal and unknown terms; many myths are just in your head but do not exist. So, avoid any such thing and go for hiring.
In the next section, we will understand the requirements of remote developers. 
Read More: Why should you outsource your software development project?
What Things to Scrutiny before Hiring a Remote Developer?
This section will discuss the essential requirements while hiring the asset for the organization or startup. Before moving blindly into the hiring process, let's move on to the crucial points which make stringent outcomes for your company.
Goals and objectives: In hiring software developers, the first requirement is to finalize a focused plan to meet the endpoints. Remember that the goal must be shared between you and the candidate to meet at the common platform. 
Hiring & Engagement models: If you are an SME organization, your company should have fair hiring and engagement models based on the fixed, dedicated time and constraints of hiring the right fit.
Place the hiring vacancy on the right platforms: You are looking to hire remote developers for your business, and various ratings and hiring platforms could impact great hires. Invest in these websites to get the best results as remote engineers for your business.
Shortlist the candidates: The next step is to shortlist the candidate amongst the pool of expected candidates. Based on their profiles, experience, knowledge, and professionalism, you can shortlist the candidate. Conduct some screening tests in the next stage.
Screening or interview to hire: Once the candidate is shortlisted, invite them for the ongoing discussion. Screening would be a quick and practical step to choosing the right expertise for you.
Offer to work remotely: The last stage is onboarding after the screening.
Now, let's move on to the steps of hiring a remote developer.
What are the Steps to Hire Remote Developers?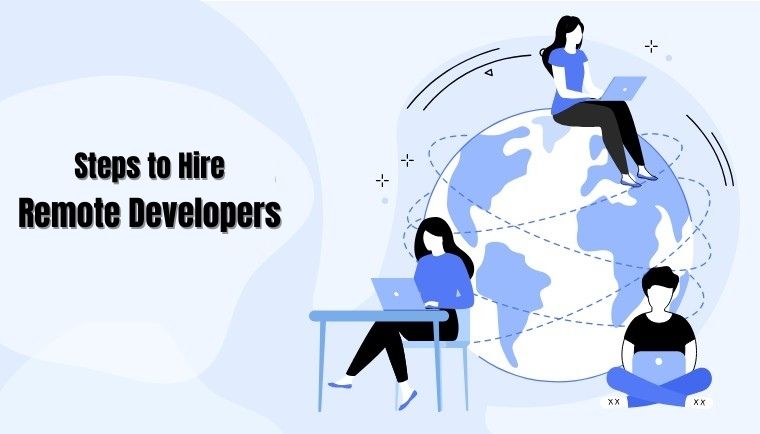 Hiring an essential asset for the organization embraces the brand's reputation and longevity. 16% of the companies allow total remote workflow in their company structure and workflow. And this is not the end; the numbers keep increasing until the end of 2023. So it is the best time to discuss the hiring methods step-by-step. The below points are well-examined and thoroughly reviewed by the company's authority to give effective results in the long run. These are the steps:
1. Check out reviews and ratings
Before hiring amongst the pool of candidates, check out the reviews and ratings of the best website. A relevant website like Glassdoor or Techcrunch allows you to explore millions of profiles on their platform.
2. Portfolios and credentials
You can't trust the words only, but you can trust them on paper. Portfolios of a specific candidate help you to understand persona, beliefs, identity, ideology, and experience. In comparison, credentials are certifications that reflect the candidate's expertise on a suitable platform.

This step will add to your hiring and give you an outer edge in exploring the right match as a remote software engineer for your company.
3. Smooth communication
The candidate must be well aware of the ascent, and there is no monotony or distraction in his way of dispelling languages and tones. Proper communication builds trust in him and favors the company's skill set and reputation.
4. Try some demo projects before
Once you know about the candidate or hiring, you can cross-check their skills to have faith in him. Let's opt for them to try out some live project demos for quick assurance.
Try and test out the efficiency of the candidate with hackathons or some demo projects assigned. Hackathons are best to filter out the vetted and common developers. You can always begin with your process by examining the developer's expertise on major platforms like hackathons, GitHub, etc. here; the developers are capable of developing the project within a few hours. Competition brings out zeal and enthusiasm in the respective developers.
Risk handling capacity,

the remote programmer must be strategic, well implied with the knowledge of tools, best practices on different tools and techniques, and many more.
How to Know if a Candidate is Suitable for the Organization?
This is a crucial step to understanding whether the hired candidate would meet the organization's expectations. We must know if the candidate matches the company standards or not.
Below is a compiled list of points to help you hire a remote software developer for a project.
Expertise: To have experience is not enough; the candidate must be entitled to the specific skills that would play an important role in your organization. Remote developers with 5+ years of industry experience could make a big difference in your organization.
Industry knowledge: The candidate must have ample knowledge that meets industry standards. There are many ways for you to know whether the candidate is worthy or not.
Certifications: To hire remote developers, you could focus on the certificate of skills that would speak. Various skill development certificate platforms could help to gain ample knowledge. Some of them are GitHub, LinkedIn, Google, Pluralsight, etc. The certificates distinguish between expert and novice candidates.
Development skills: While hiring the perfect fit for the organization, you must consider skills like; organizational skills, collaboration skills, leadership skills, aptitude skills, time management skills, and others that are important for being a company developer.
Experienced in customized working: To hire remote developers, you must look for an experienced developer who can easily fit inside the company; based on their previous work experience.
Professionalism: It is one common factor that the candidate must attain. Irrespective of the knowledge and expertise, if the candidate is not imbibed with professional aptitude, then it is a complete waste of their professional career.
Pressure handling and team player: The candidate's persistence checks out how smartly he handles the team and does not back off on peer pressure. Understand the ethics of the candidate and whether he is the right fit for the business or not.
Extra specialists: If the candidate has more expertise and areas to deliver, it is a win-win situation for the company. However, this is not mandatory, but it would surely elevate your brand's value.
Challenges to Hire Remote Developers for the Organization
Hiring remote candidates is a tedious process; it is pretty assertive that hiring has some challenges to get sorted out in the very beginning, or else it would cause massive damage to the organization. Let's discuss some challenges while hiring a remote developer and how to resolve them.
Language may be an obstacle: Working in a multi-mode organization with different platforms, it is quite understandable that everyone can't understand foreign languages. But we can't eliminate the importance of working skills, so hire a candidate with an effective manner of speaking, writing, and understanding knowledge. Else it would degrade the quality of the product. You can hire remote developers from countries like Asia, where people are sound in languages, and their hiring would fit under your cost budget. If there is any language barrier, then it will be quickly resolved. 
Quality may degrade: The wrong hiring degrades the quality of the project and the business. The hired candidate must show his trust and efforts in the organization, which uplift the company's growth.
Time zone Issues: Every big organization has clients worldwide, and they do not want their work to face any halt at the time of the development process and delivery. Many countries have different time zones; in that case, India would be an excellent choice for your project. The Indian time zone fits different countries and is suitable for big companies and clients without any time issues. Client satisfaction is at the top.
Violation of data security: Data security is in top demand for every organization. Take care of this challenge while hiring candidates for your organization. We have found two most common security breaches that could obstruct your performance.
Establish a clear policy: Have a clear company policy and hand it over to the candidate first. This is essential for your company to work for the candidate. The policy document is easy to understand, and the candidate must read and follow the conditions before joining the company. The policy place treats every candidate on the same page.
Use two-way authentication: Ensures that the employees are secured from any hacks, or loss of their identity, two-way password authentication, eliminates any breaches in the middle of some tasks.
Read More: Complete Guide for Nearshore Software Development
Where to Search for an Experienced Remote Developer?
Now you are in the state to hire remote developers for your organization. Time to pick the places where we find the perfect remote software developer who can work with your organization without any failure. Majorly there are three sources to find our search: 
A. Online Job Portal Sources
According to an estimate, online job portals like Github, glassdoor, and others show the percentage of people who wish to work remotely in their data.
Upwork: Upwork is searching for the right working professionals for your organization. Get proof of quality and no cost until you hire. You can find everything on this platform. 
Freelance: For the last decade, one of the top chosen websites to believe in the hiring process and selected candidates, Freelance is one of them. They have plenty of things on their website to choose from. Either you can straightly like the perfect fit for your organization or customize your choices by filtering the option to hire remote developers.
Toptal: Toptal is considered one of the finest platforms to hire remote developers at your organization. If the selection process would be complicated or a nightmare for you, Toptal lights up with plenty of sub-areas on their platform to choose the best fit for your niche. They have a more than 98% trial-to-hire success rate. You can believe in the platform and let the remote developers fit at your place within the budget premises.
Apart from the rest, there are many more options where you can get the right brief about the reviews and ratings and kind of interviews, their level, and what is unspoken by the rest of the hiring platforms; it is available on the websites. Glassdoor is one of them where you can fully understand the specific website and detailed information about the website before hiring a remote software developer for your niche.
B. Social Media Platforms
Digitization makes everything super easy and trustworthy. We all know and admire the role of social media platforms for every nuance. It plays a vital role in our life not from social activities to understand, but also social media is considered the friend in need to search for other activities.
Facebook: we can't forget the importance that Facebook plays in our life. In 2021, it was utterly changed and came out as a single platform, Meta, a symphony of technologies, working, manufacturing, architecture, and whatnot. You can always look out for Facebook groups to search out your hiring and post an ad for the respective in detail. Facebook is most vital used by millions of people and tech organizations; it is the best outlook platform to figure out the right fit for the organization. 
LinkedIn: LinkedIn plays a vital role in hiring niche candidates for businesses, startups, and organizations. It came into existence over a decade, and till then, it has played a prominent role in hiring the expert for the people you can trust and hand over your responsibilities. LinkedIn is the open platform where you can connect with the niche person, get into their profile, and, if appropriate, ask for an interview. 
Twitter is another platform to search out the best fit for your niche. Unlike Facebook, Twitter is not a social, professional website, and you can tweet for development requirements. #explore, profiles options would be great for hiring a software developer.
C. Top Agencies
This guide's final segment is hiring the top talent with an agency. Online software development agencies can dismantle over-hiring companies where the best talent can easily choose for their capacity. Let's look at some of them;
Clutch: It is one of the business, IT, and marketing listings of companies to get reviews, and ratings of the leading companies, making you more clear on hiring decisions. 
GoodFirms: A platform where you can promote your business services or find the right business partner or remote worker from the list of most renowned software development firms. 
Business of Apps: It sources actionable insights from the world leader and gets industry insights. 
How much does it cost to Hire a Remote Developer?
The cost of hiring remote software developers depends on several factors. We have arranged for the below factors that can implicitly impact the hiring costs. It is wise to focus on these factors to hire remote engineers under the business budget better. 
What level of skill do you want; expertise or intermediate?
The cost would change depending on the expertise you want for your project development. For the small or mid-level business, you can opt for an intermediate level of professional, while if you switch to applications like e-commerce or payment APIs, the cost will end you high on pockets.
Geographic location plays a vital role in hiring:
The cost to hire a remote software developer across the globe depends on per hour rate. If you want to hire a developer from a European country, then it would cost you a lot compared to hiring from Asian countries. Let's look at the below:
North America: $100-200/ hour
Latin America: $20-$150/hour
Middle East: $40-$70/hour
Africa: $25-$40/hour
Eastern and Southeast Asia: $20-$40/ hour
Nature of the complexity of your project:
The nature of the cost would be diverged depending on the level of project complexity. The level of API integration, backend support, UI implementation, functionality, and much more decides the project's overall cost. Suppose you wish to develop an e-commerce-based project; it needs a high level of complexity and a senior group of professionals. While building the primary application, a junior or mid-level developer can do the work for you.
Which is best to Hire remotely from Individual-Resource or an Expert Agency?
As per the business aspect, every business needs different and unique needs for their business outcomes. You always have two choices to hire for your business needs.
Hire from individuals:
 solo individuals have their unique and specific way of working directly with the client. In that case, you are not free to add more members if your project dependency needs multiple people to complete the task. 
Hire from an agency: 
When hiring an expert agency, you have a wide umbrella under which a pool of developers can do vital work for your project. It is easier for your business to have all the arrangements and negotiate as per your budget. Agencies have policies like the NDA; that brief you about everything before moving further. 
We suggest you hire your next remote developers from the agency who have a complete level of expertise and are perfect at handling peer pressure and time handling.
Final Words!
This comprehensive guide would glance at you to quickly explore the points crucial to the implementation and should not be avoided. In conclusion, we would say that hiring should be transparent so that candidates can explore new dimensions in their respective fields with some of the company's finest professionals. On the other hand, remote hiring is the strongest possibility for the company to embrace their working overloads and shift it to some trustworthy people, have the chance to meet with new versatile people, and much more. Thanks to digital trends and movements, the maximum opportunity for startups and SMEs to collaborate with remote working lifestyles and expand their levels.
FAQs:
How do I hire a remote software developer?
Define your project requirements, post job listings on relevant platforms, screen candidates, conduct interviews, and check references.
How much does it take to hire a software developer?
Costs vary by location, experience, and skillset. On average, US-based software developers earn $100K+ per year.
How do I hire a freelance programmer?
Find platforms like Upwork or Freelancer, post your job, review bids, interview candidates, and hire the best fit.