Bored Ape Monkey NFTs are the buzz of the NFT town.
If you are a Snoop Dogg or Eminem fan, or even if not, there is no possibility that you haven't heard or seen their collaboration "From the D 2 the LBC." The song brings the two masters together and features their NFT monkey Avatars!
One of the primary reasons that, despite being in the market for long enough, Monkey NFTs recently surfaced is the love celebs have been showering on them. In this article, we will discuss the most expensive NFT monkey (bored ape) ever sold.
An Ethereum-based limited NFT avatar project called Bored Ape Yacht Club introduced Bored Apes, which are incredibly rare. There are only 10,000 of them!
(**Astonished**)
Each Bored Ape NFT token is unique and attractive. Bored Ape YC sold out in a single day for less than $200 each when it was first introduced in April 2021. The cheapest ape for sale now costs $80K six months later. 
And the love these bored ape NFTs are getting is unmatched.
Concept of NFTs (Non-Fungible Tokens): Brief Overview
Digital assets known as non-fungible tokens, or NFTs, signify ownership of a particular art piece or content. Unlike conventional cryptocurrencies, which are exchanged for other tokens (which are fungible), NFTs are exclusive and cannot be replaced. They represent digital art, collectibles, and other rare or unique goods. They are kept on a decentralized and secure digital ledger called a blockchain. One of the major advantages of NFTs is their ability to trace and verify digital goods' ownership and origin. NFT is an excellent way for artists and collectors who want to securely and openly sell and acquire original digital art and other unique products. The market for NFT art and collectibles has shown an upward graph in recent years due to the explosion in the popularity of NFTs.
The bored ape monkey nfts have created a whole new game in the market and are helping its owners earn whooshing profit on their investments.
Bored Ape Yacht Club NFT: Few Words
Thanks to the Bored Ape Yacht Club (BAYC), NFT was one of the first to be produced under the ERC-721 standard. Another distinct feature of BAYC is that it was the first NFT created by a significant firm, giving it a level of legitimacy that all NFTs do not share.
A share in a real yacht serves as the security for the BAYC NFT, differentiating it from other digital NFTs with no real-world value. BAYC is a rare and most sought-after NFT due to its credibility, connection to a tangible item, and rarity. Only 10,000 BAYC NFTs have ever been produced, which makes them rare and adds value to the collectors' eyes. Therefore, acquiring one of these NFTs can be a fortunate and worthwhile accomplishment.
10 Most Expensive NFT Monkey: Bored Ape Yacht Club
In a couple of years, with the trend of nfts monkeys rising and celebrities showing keen interest in their avatars, the BAYC has been earning a whooping amount with each sale.
Let's talk about some most expensive yet rare NFT Apes that have been ruling the marketplace recently.
10. Bored Ape Yacht Club #5199
Price: $1,611,272
Rarity Rank: 58
Rarity Score: 260.15
No matter how many bored apes are on the market, this is one of the weirdest. With an intimidating appearance characterized by cyborg eyes and robotic fur, our first ape on the list has most-sought after-trait combinations.
Only five of the 10,000 apes in the collection have such a unique combination of traits, including BAYC #5199.
The current selling for 425 ETH caught people's attention with a massive profit of $1.5 million (about 10,000% ROI) in a single sale compared to the previous purchase at 5 ETH or $14K. This justifies the hefty price tag of this "thematic ape."
9. Bored Ape Yacht Club #4580
Price: $1,845,384
Rarity Rank: 257
Rarity Score: 207.3
One of the most loved nft monkey art, #4580 is a part of the Golden Ape Family. The family is trending for its golden fur, a rare trait in only 46 apes. Weirdly dressed in a biker's vest with a Seaman's Hat, this ape is one of the most talked about nft monkeys.
The dumbfound mouth, in combination with the golden skin, makes #4580 a quirky yet exciting combination and adds to its value.
It was bought for 666 Ether ($1.8 million). For the investor who bought it for 40 ETH and sold it after 8 months, it represents a significant return. Consequently, a profit of nearly 2029 percent, or $1.6 million.
8. Bored Ape Yacht Club #8135
Price: $1,873,449
Rarity Rank: 7
Another name in the most expensive bored ape list is #8135 in the primate-friendly Yacht club. A part of MetalinkLab's NFT collection, the ape is undoubtedly not the last on the list. 
Only 28 Apes have this trait of the unshaven dagger in the mouth, which makes it very rare.
The first buyer was 'TheArchitect,' who only kept it for 18 days before selling it for a profit of roughly $336,000 on the market.
Only 65 other Apes have the same features as this Bored Ape, including its Hypnotized eyes, Trippy Captain's cap, and Hip Hop clothing.
7.  Bored Ape Yacht Club #7090
Price: $2,272,620
Rarity Rank: 77
Rarity Score: 250.33
Another Bored Ape in Golden Fur in the list!
Bored Ape #7090, was initially purchased for 199 Ether, or $563. Within the month of the first sale, it was sold for 600 ETH, or $2.25 million. Bored Ape #7090 is among the most expensive BAYC monkey NFTs ever sold, setting a new high for the format.
(A Return of 303 percent, or $1.69 million, in one month!)
A five-trait ape, Bored Ape #7090, has heart-shaped eyes, a colorful smile, and a new punk blue background. It is dressed in serving attire and resembles a solid gold upscale hotel doorman.
6. Bored Ape Yacht Club #2087
Price: $2,307,638
Rarity Rank: 9th
Rarity Score: 312.34
This Trippy rainbow-colored fur Bored Ape #2087 held the record for the BAYC collection's most costly NFT in terms of Ethereum. This funny yet annoyed-looking BAYC NFT was purchased for 42 ETH and sold after three months, netting a profit of 2221 percent, or $2 million, at 769 ETH.
Yup, Staggering 2221%!!!
A bored ape with a cigarette in his mouth, angry eyes, trippy rainbow-colored fur, and one of the fewest bored ape features of all—purple background. Bored Ape #2087 is one of the trippy and funny Apes in the marketplace. .
People from various walks of life and backgrounds have expressed much interest in the collection. Many are confused about the future of The Bored Ape Yacht Club since it has entered mainstream society, but, these Apes seem unaffected by it.
5. Bored Ape Yacht Club #8585
Price: $2,702,462
Rarity Rank: 441st
Rarity Score: 190.2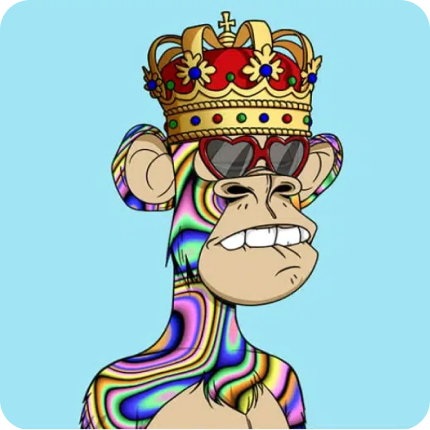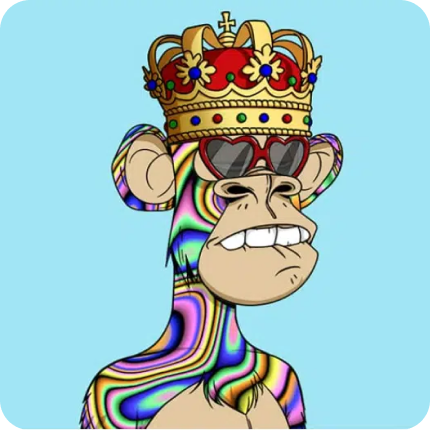 In just 5 months, our quirky Crowned Bored Ape# 8585 saw a rise in its worth. Compared to its initial sale price of $14,082 (5.9 ETH) in May 2021, it grew 191 times in just 5 months. In October 2021, one of the most expensive nfts ape was sold on the marketplace OpenSea for $2.7 million (697 ETH).
This is a fantastic five-trait psychedelic fur ape with blue-background heart eyes. The trippy fur of this NFT Monkey is super cool, and the king's crown, a trait of 77 of the 10,000 apes, gives it a unique look.
The psychedelic fur apes, among the rarest in the Bored Ape Yacht Club NFT collection, became extremely popular after purchasing Bored Ape #8585. Despite having a lower rare rank and rarity score than some of the other apes in this list, Bored Ape #8585 is the most astonishing ape in the entire collection and has a high collector value. Remember that uniqueness is only sometimes everything.
4. Bored Ape Yacht Club#232
Price: $2,811,791
Rarity Rank: 503rd
On the nft monkey art marketplace LooksRare, Bored Ape #232 was purchased for 1080.69 ETH ($2.9 million), according to the transaction. In the BAYC collection, only 46 bored apes have this Golden fur feature. It has a smoking jacket and a seaman's hat for the overall look. Sleepy eyes paired with the recognizable bored face.
Bored Ape #232 has these unique characteristics:
The smoking jacket is made of solid gold
Mariner's cap
Army green background with sleepy eyes, and a bored mouth.
Combining all these characteristics made it one of the very few NFTs of bored apes.
One of the rarest and most costly four-digit ETH NFT sales for the price of a single one is Bored Ape #232.
With a picture of Bored Ape #232, Thapliyal wrote, "Say hello to my little friend."
Thapliyal raised money to buy this gold fur primate by selling seven bored apes, an M1, and an M2 serum.
3. Bored Ape Yacht Club #544
Price: $2.86 M
Rarity Rank: 31st
Rarity Score: 282.23
Bought by "SaintBayview. " On Twitter, the owner congratulated the seller and tweeted, "I couldn't be happier with my 2nd BAYC." The buyer also won Rolling Stone magazine's coveted tribute to the collection centered on apes.
This one of the most expensive bored apes yacht club #544 is a seven-trait, incredibly uncommon, solid gold fur ape with an eyepatch and a tuxedo t-shirt.
Due to its striking aesthetics, rarity, and uniqueness, the "Solid Gold" fur trait, which depicts an ape with glittering golden fur, has become one of the most valuable in the BAYC collection.
2. Bored Ape Yacht Club #3749
Price: $2,907,016
Rarity Rank: 27th
Rarity Score: 283.99
Second Most Expensive Bored ape Yacht Club
"The Captain," or bored ape yacht club #3749, is one of the rarest and undoubtedly expensive NFT monkey art. It was given some gaming features, an ideal illustration of how NFTs combine uniqueness, art, and gaming.
This six-trait solid gold fur ape sporting a sea captain's hat, a black t-shirt, and a little grin on a yellow background has red laser eyes.
We strongly believe that culture, whether it be games, music, or the visual arts, will be one of the pillars of the open crypto, the platform said in a Twitter thread.
1. Bored Ape Yacht Club #8817
Price: $3,408,000
Rarity Rank: 17th
Rarity Score: 297.37
Most Expensive NFT Monkey Art
In terms of financial value, Bored Ape #8817 is the most expensive Bored Ape Yacht Club NFT ever sold. It was sold for an astounding $3.41 Million (819 ETH) through the high-end NFT exclusive auction house Sotheby's Metaverse. The Bored Ape Yacht Club minted this ape, and this is the first time it has been made available (BAYC).
According to the Rarity Tools, The Bored Ape #8817, a seven-trait solid gold fur ape, is ranked #17 with a rarity score of 297.37. Among these seven qualities are:
Horn-in-mouth Spinner Hat
Solid-gold Fur
Bored Party
Wool Turtleneck Sweater
Sleepy Eyes
Orange Background
The NFT investor "Rhincodon," who bought the unique Bored Ape #8817, revealed his identity to HYPEBEAST and expressed his opinion on how he views the worth of this special bored ape.
This is in contrast to many other anonymous NFT traders. The NFT investor "Rhincodon" went ahead and bought Bored Ape #8817 despite the ETH price being relatively high on the purchase date, which was $4161.17/ETH, bringing the total selling price to $3.41 million (819 ETH times $4161.17 is equal to $3.408 Million).
It appears that any gold ape below 1,000 ETH is a bargain these days; there is no double the NFT investor "Rhincodon" who went ahead and bought Bored Ape.

Visit: The 10 Most Expensive Cryptopunks NFTs Ever Sold
Advantages of Developing an NFT Monkey Art
The Bored Ape Yacht Club creates NFT monkeys, also referred to as "Bored Apes," which are digital art treasures. The NFT monkeys of the Bored Ape Yacht Club serve a purpose in the club's online environment in addition to being naturally collectible. Collectors can participate in club activities and events like yacht parties and treasure hunts using NFT monkeys.
The Bored Ape Yacht Club's NFT monkeys represent a unique and exciting approach to the NFT art and collectibles market. They include gameplay, community, collectibility, and digital art components.
1. Bored Ape Yacht Club Has Rare NFTs
It is well known that demand and supply govern the pricing of goods and services. Low supply & high demand guidelines apply to BAYC NFTs. Only 10,000 Bored Ape Yacht Club NFTs are ever possible. Thus, there will never be an abundance or supply of new Bored Apes.
However, Bored Apes are more than unusual collectibles; their designs are distinctive. To create each Bored Ape NFT, the creators combined 170 distinct features, such as golden fur or cyborg eyes. Rarity and uniqueness are just two of the numerous factors contributing to Bored Apes' high cost.
2. Owning Bored Ape NFTs Unlocks Exclusive Benefits
Bored Ape NFTs can be compared to a gated neighborhood. Only those who own it have access to the many advantages of Yacht Club membership. Among them are:
Events held in the community, such as the "warehouse party" during NFT Week in New York
Exclusive graffiti board called "The Bathroom."
Access to a members-only Discord server
You might also mingle with famous people like Mark Cuban, Eminem, Justin Bieber, and other Bored Ape NFT owners at these events, servers, and rooms.
Bored ape NFTs provide even more extraordinary benefits. Owners of BAYC NFTs have access to opportunities such as airdrops, breeding canines apes as companions, and more. These opportunities have given rise to recognized offshoots like the Bored Ape Kennel Club, which sold dog NFTs to earn as much as $1 million for animal shelters.
The rights to commercial use make owning a Bored Ape NFT the most profitable option. If you decide to rent it to an NFT museum or look into other business opportunities, it may bring in a handsome profit for you.
3. Celebrities Want to Buy Bored Ape NFTs
The best parameter to judge if something is popular is when even celebrities want it. That's true for Bored Ape Yacht Club NFTs who famous investors own, actors, musicians, and more like:
Alexis Ohanian (Co-Founder, Reddit)
Jimmy Fallon (TV Personality)
Eminem (Musician)
Kevin Hart (Actor)
Justin Bieber (Musician)
Mark Cuban (Billionaire Investor)
Logan Paul (Internet Personality)
Madonna (Musician)
Shaquille O'Neal (Ex-Basketball Player)
Neymar Jr (Footballer)
Post Malone (Musician)
Tom Brady (NFL Player)
Snoop Dogg (Musician)
The elite and exclusive prestige of owning these Bored Ape NFTs have a part in driving the price. This might be one of the most influential factors in why Bored Ape NFTs are so expensive.
4. Bored Ape NFTs Rival CryptoPunk NFTs
How can you tell whether something is popular? Celebrities also desire a share. Bored Ape Yacht Club NFTs, held by well-known investors, actors, artists, and other celebrities, are the only ones to compete with them in terms of price and popularity. Although Bored Apes and CryptoPunks are both sets of 10,000 NFT collectibles, the competition is interesting because of the smaller features.
CryptoPunks, for instance, was first. While Bored Apes were introduced in 2021, they did so in 2017. Despite this, there is a heated argument over copyright and lack thereof among NFT supporters. IP rights are one of the main benefits of owning Bored Ape Yacht Club NFTs, yet they are not granted to NFT owners by CryptoPunks.
However, this argument might be a thing of the past. The BAYC NFTs manufacturer, Yuga Labs, recently disclosed that it had bought the Cryptopunks NFT collection.
5. Bored Ape NFT Universe Keeps Expanding
The Bored Ape Yacht Club NFTs' inventors are constantly coming up with new ideas, such as a new line of canine NFTs and mutant apes. Even more so, BAYC introduced ApeCoin as the name of its native currency in March 2022.
ApeCoin has a $3.05 billion market cap as of the time of writing this blog and is now trading at $11.19 per coin. Not just that. Benji Bananas, a play-to-earn video game, will incorporate ApeCoin. Numerous business- and community-related areas have benefited from these developments. On the one hand, current users have various things to look forward to.
New investors, meanwhile, could be eager to pay a cool million or two on a bored ape. In either case, originality and exclusivity are factors in the high price of Bored Ape NFTs.
How Does NFT 'Bored Apes' Work?
Digital assets kept on a blockchain are known as NFTs (non-fungible tokens). It can represent many different things, such as music, videos, writings, and photographs. Ten thousand digital image tokens make up the Bored Ape NFTs. They can be used as a medium of exchange, status symbol, insurance policy, or creative expression. Due to the numerous ways the design might be interpreted, each of the 10,000 Bored Ape NFTs is distinct. By their distinctive qualities, various Bored Ape NFTs have varying values. such as clothing, scenery, and headgear. These qualities and how frequently they are applied to the NFT's design influence the token's price.
How to Decide to Buy Bored Ape Yacht Club NFTs
The current floor price (the lowest price) for a BAYC NFT on OpenSea is 25 ETH, or roughly $80,000.
Before deciding if now is the time to buy an APE, there are a few factors to consider. Using this checklist, make your own decision.
NFT Monkey Market Situation
Right now, the NFT market is booming. Floor prices for NFTs, notably Bored Ape YC, will probably drop significantly if the market soon has a correction.
Individual vs. Group Purchase
A single owner can profit by purchasing a Bored Ape, but purchasing in bulk distributes the risk among the group. Also, it is not just the risk distribution but profit distribution that must be considered.
Future Profit Returns
Bored Ape YC pledges to keep providing advantages to NFT holders. The Bored Ape Kennel Club and Mutant Serum demonstrated the financial viability of boredom.
In addition to OpenSea, Sotheby's auction house will soon offer Bored Ape NFTs for sale. 101 Bored Ape NFTs, estimated to be worth up to $18 million, will be sold at auction on September 5 by Sotheby's. To be on the safe side, they also offer many 101 Bored Ape Kennel Club pets for sale.
The Art of Making NFT "Bored Apes"
The market already has 10,000 Bored Ape NFTs for sale. If any extra apes were to be created, the value of these NFTs might perhaps decline. The Mutant Ape Club is a distinct collection of collectibles currently in its second generation. An algorithm was used to produce the initial 10,000 Bored Ape NFTs. To make a brand-new NFT monkey painting that merges different traits. Background, fur, attire, form of the eyes and lips, and incorporation of accessories are the distinguishing factors. The final designs were produced by an illustrator using an algorithm that randomly shuffled these variables. The public promptly bought the entire collection and is currently actively traded as a highly sought-after collection of NFTs.
What Sets Apart Bored Ape Yacht Club BAYC NFT?
NFTs have gained popularity among people from all walks of life, including famous and regular people. Some might be curious about what makes the NFTs of the Bored Ape Yacht Club unique. The originality and innovation of BAYC NFTs are major aspects that set them apart. They were created by renowned artist Pablo Picasso and are based on the Ethereum blockchain. This characteristic makes them more difficult to forge and ensures their worth stays intact with time. However, these are not the only characteristics that set BAYC NFTs Monkey apart.
A BAYC NFT Monkey also entitles you to additional benefits, including access to a private forum, price breaks, and invites to special events. These further advantages distinguish BAYC NFTs as a unique option for individuals seeking more than just a digital asset.
Why Are Avatars of Bored Apes Dominating Twitter?
Even if you weren't aware you were looking at a BAYC NFT Monkey, you've undoubtedly seen one.
Timbaland (1.6 million followers), Eminem (22.6 million followers), and football player Neyman Jr. are among the Bored Ape owners who now use their NFT as their Twitter profile photo (55 million followers). In a cringe-worthy Tonight Show segment, Jimmy Fallon and Paris Hilton—both BAYC holders—discuss their Apes. Justin Bieber garnered media attention with his $1.29 million purchase of a Bored Ape Yacht Club NFT in February.
The rappers Eminem and Snoop Dogg created a video featuring their Bored Apes.
What Are the Possible Risks of Having a Monkey-Crafted NFT?
Owning NFT art, particularly NFT monkey art, has a risk of loss similar to any investment. NFT artwork's worth may increase or decrease over time if the demand for NFTs declines or a new digital collection gains popularity. Collectors should be aware of these risks and think carefully about their investments. When investing in NFTs, such as NFT monkeys, there is yet another possible danger to consider. Is the potential for Ethereum's value to fall? This coin is what is utilized to purchase these digital assets. NFTs will lose value if the price of Ethereum decreases. Prospective buyers should know this and how it can affect their investments.
There is a significant risk because this technology is still in its early stages. NFTs, particularly NFT Apes, could experience problems that make them worthless. Investors should be conscious of this potential risk. Considering that problems could always arise with new technologies.
How Will BAYC NFTs Develop in the Future?
The price of Bored Ape NFTs has hit $3 million, especially the expensive gold-fur ones. Furthermore, if their demand keeps rising, it might rise even further. Collectors who see these NFTs as an investment potential are interested in them and aspire to integrate into the BAYC neighborhood. The potential resale of the 46 gold-fur Bored Apes may also impact the market price of these Monkey NFTs. The high price of these NFTs may eventually become the norm due to the NFT industry's rapid expansion.
Conclusion:
Bored Apes NFTs are in the market to stay, along with their strongest rivals CryptoPunks. Bored Apes eventually grew to be regarded as famous works of art that symbolize the public introduction of the metaverse.
FAQ: